Pictures from Utah Road Trip Apr 2004
Click on any picture to get the full-size version.
---
So, I took a week off of work, packed up the car (and Duke), and took off on a road trip. The destination... Utah, and places on the way.
I took the back roads to get there. First off was 26 the whole way through Oregon. Below is a picture of us at the painted hills (part of John Day fossil beds).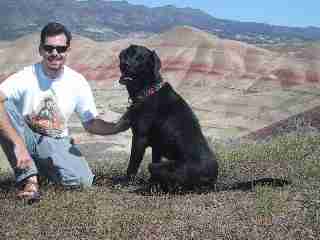 Another picture of the painted hills. This was on a short hike through a couple hills. The colors were amazing!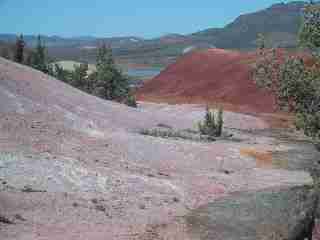 The Subaru made it to 100,000 miles...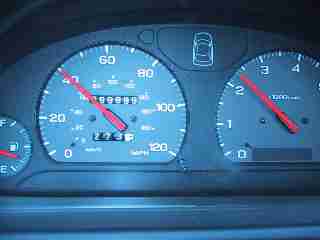 This is the John Day river gorge. Just west of here was an incredible canyon on 26... Mountains straight up on all sides.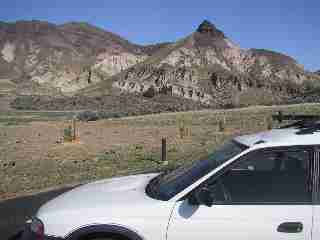 Duke and I overlooking the John Day river valley. Camera timers are great!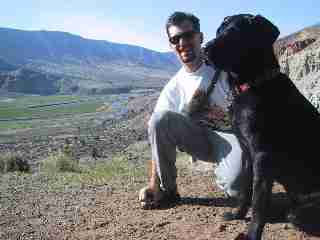 The strawberry mountain range in Eastern Oregon.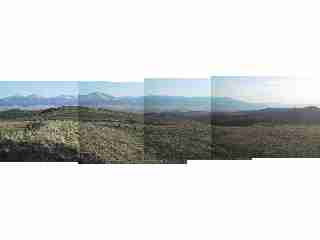 ---
The next day I drove through central Idaho. There's a national monument there called 'Craters of the Moon'. There are a bunch of volcanic craters and lava flows. Here's both Pahoehoe (near) and Aa (lava) in the middle of Idaho?!?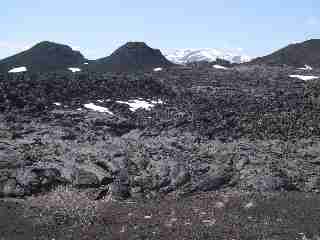 Duke and some more lava. The slabs in the background looked like broken up asphalt.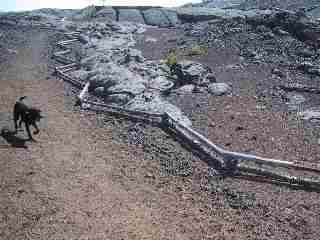 Underneath them was a lava tube. Here I am inside... Duke didn't really like the idea.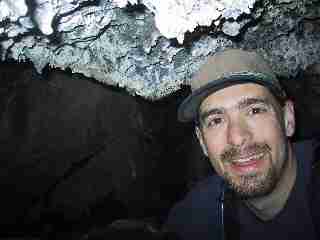 Nice view over the lava fields.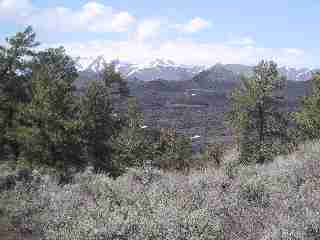 More driving in Idaho. There is a lot of nothing there...

---
Devra flew in to meet me in Salt Lake City. We drove down to SW Utah. We started a backpack trip down into the Escalante River. Up top it was a desert, but down a thousand feet or more in the canyon it was nice. Here is a view of some of the walls and a natural arch (Steven's Arch).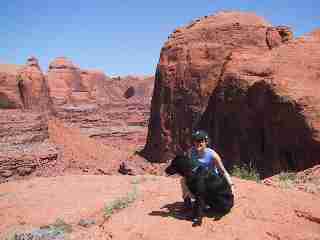 We had gotten a couple hundred feet down after some scrambling, and hit a problem. There was no way to go any further! This is looking down... the first drop is around a hundred feet, and there were several more after that.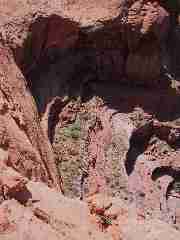 So, we turned around... we had to climb back up here though. It was hot and dry!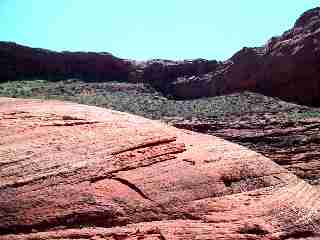 ---
We drove to another canyon (Coyote). This hike started out totally dry, and gradually we started seeing trees. Much nicer than hiking in the desert!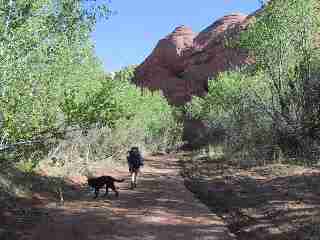 There were also lizards everywhere! This was a rather large one (~8in body).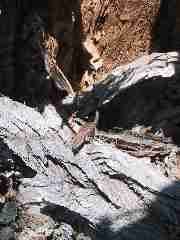 Water! Also, incredible overhanging walls along the stream. You don't want to be there in a flash flood.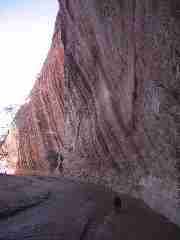 This is above the place we camped the first night. In a couple hundred years, it's going to be an arch...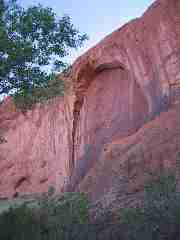 We hiked into Hamblin Arch. Incredible! It was huge!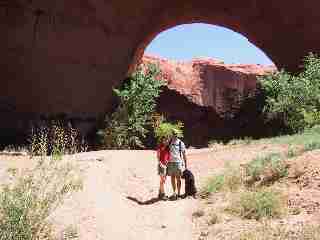 A collage of the arch and surrounding walls. Very Hockney-esque (or so I'm told)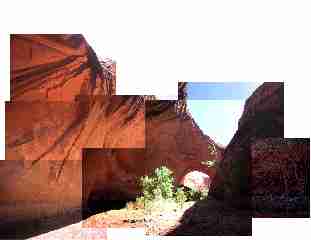 ---
A quick side trip to Bryce canyon... the money shot.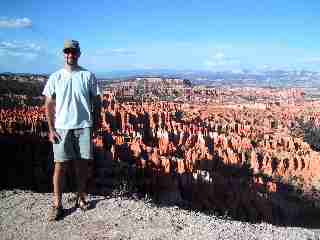 After 2 days of hiking, Duke was dead. And he didn't have a pack. Poor dog...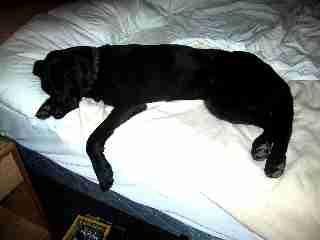 ---
Back in SLC... We stopped by Temple Square. This is the SLC Temple. Apparently it's not large inside, but made up of a bunch of small rooms.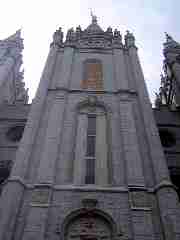 This inside of the Mormon Tabernacle. They didn't have any wood except pine, so they made the organ out of it, and painted/stained it to look like Mahogony.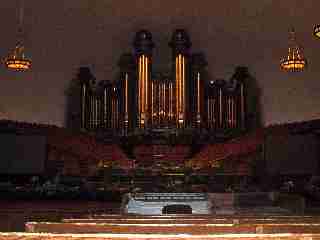 The columns are pine too! Fake painted marble.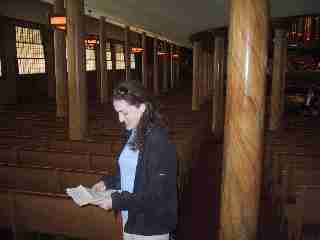 ---
Duke and I drove west to Tahoe. Went to a great coffee place in the morning (Alpen Sierra), and one of the guys there recommended a hike. Here we are above the Truckee river overlooking Lake Tahoe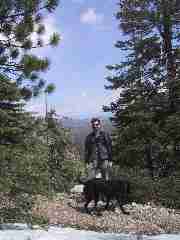 Duke, and a better view of the lake. There was still a lot of snow.



We also hiked up the Truckee river for a while. There were some great falls!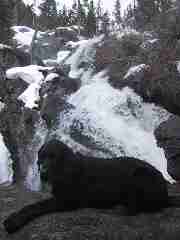 And, it started snowing on my way towards the Bay Area... it's April!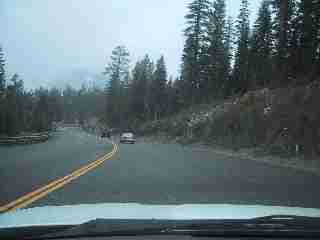 ---
Copyright 2004, Ross Segelken